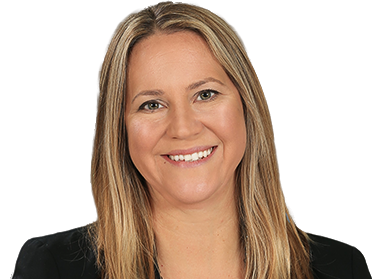 Jackie Cook advocates relentlessly for clients both facing and considering litigation, drawing on 15 years of experience litigating in Michigan courts as well as advocating for dispute resolutions without litigation.
Ms. Cook concentrates her practice on business litigation, administrative law, and state and local tax litigation. In addition to her litigation experience, from preparing pleadings at a case's infancy to resolution through a court decision or settlement, Ms. Cook brings a unique perspective by drawing on her experience studying complex tax statutory schemes and complicated tax issues and also reviewing corporate accounting and business records, real estate appraisals, and tax returns. Ms. Cook represents clients before the Michigan Supreme Court, Court of Appeals, Circuit Courts, Court of Claims, and Tax Tribunal, many involving state or local tax issues.
Ms. Cook is a Fellow of the American Bar Foundation and was recognized as a Super Lawyer Rising Star in 2009, 2013, 2014, and 2015. Ms. Cook is a frequent presenter for the Michigan Association of CPAs, Institute of Continuing Legal Education, State Bar of Michigan Taxation Section, Tax Executives Institute, Michigan Women's Tax Association, and Council on State Taxation and has published articles in the Michigan Bar Journal and Michigan Tax Lawyer. A leader in the law, Ms. Cook is Chairman of the State Bar of Michigan's Taxation Section Council.
Prior to joining the Mike Cox Law Firm, Ms. Cook spent a decade litigating with a large international law firm based in Detroit and a large national firm based in Chicago. Ms. Cook also spent two years as a tax attorney for a Fortune 500 company where she gained a client's perspective while managing litigation. She also advised internal corporate clients regarding corporate acquisitions, construction contracts, city income tax, state taxes, and property taxes. While in law school, Ms. Cook also served as an intern to the Executive Office of the Michigan Department Treasury.
Practice highlights
Briefing a property tax issue of first impression to the Michigan Supreme Court and Court of Appeals, resulting in a tax assessment being invalidated and a refund to the client of more than $1.25 million
Representing a national business organization as amicus curiae in a state tax case before the Michigan Court of Appeals
Briefing and arguing appeals before the Court of Appeals, and successfully resolving further appeals before the Michigan Supreme Court, in matters involving the charitable exemption and municipal exemption of the General Property Tax Act
Briefing an issue of first impression before the Court of Appeals, successfully reversing an intentional disregard penalty in an income tax matter, resulting in a refund to the client of over $600,000
Advocating for clients before administrative agencies, such as the Michigan Department of Treasury, State Tax Commission, and the Administrative Hearing System
When not in the office, Ms. Cook enjoys golfing, spending time in her hometown of Harbor Beach and, most importantly, attending her sons' baseball, basketball and football games.
Western Michigan University Cooley Law School,
Juris Doctor, 2005
Hillsdale College,
Bachelor of Science, 1999
State Bar of Michigan
U.S. District Court for the Eastern District, Michigan
U.S. District Court for the Western District, Michigan
U.S. Tax Court
American Bar Association
Michigan Women's Tax Association
State Bar of Michigan
St. Edith Catholic School and Church, Volunteer